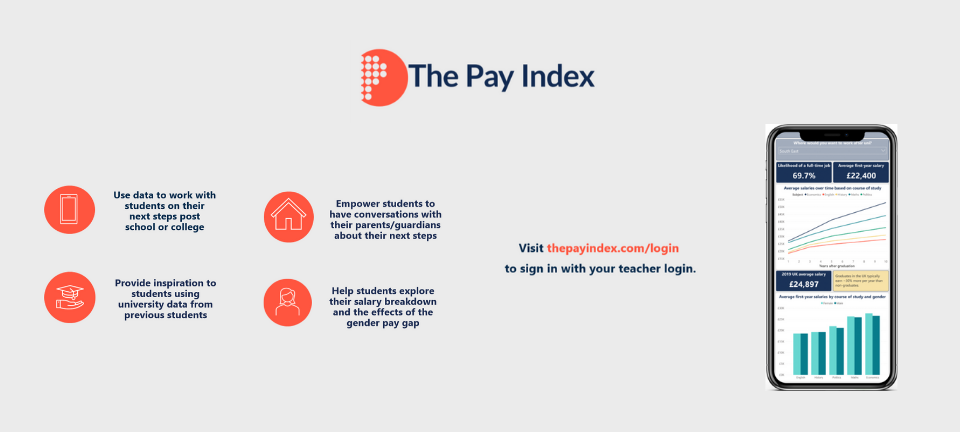 04 Dec 2020
The Pay Index are on a mission to educate all school students on their critical next steps and help young people make the right choice for them.
The decision whether to go to university, take an apprenticeship, or go straight into the workforce can be a difficult one. Access to accurate and timely information is a critical part of this decision-making process. However, information is often difficult to find and hard to interpret.
The Pay Index, in conjunction with a number of higher education bodies, have developed reports as part of an easy to use and informative tool that can be utilised by students to help them to make sound decisions at this critical stage in their development. Reports are generated based on answers that students provide to questions, to help students and parents/carers make informed decisions about the future.
The Pay Index answers key questions that may be on the minds of students:
Where you can study in the UK?
Where you can go after completing your studies (UK)?
What value can university bring to your job prospects?
How does university affect your take home pay?
How might where you live affect your cost of living?
Future Quest and The Pay Index are focused on educating students in Years 10-13 and their parents/carers of the long-term benefits of choosing further education vs. heading straight into work after school. Students can sign up for FREE to use the tool using this link https://thepayindex.com/futurequest/signup
Future Quest linked schools and colleges can contact us now for free access to the reporting tool and a demonstration of how the tool works. The tool can be used by students and parents/carers independently, utilised by school staff during lesson or tutor time, or we have developed activities that could be set as part of guided learning. If you are a Future Quest school, please email future.quest@uwe.ac.uk for your teacher login information.
There is also a 45 minute webinar available to view where you can find out more about the tool: https://www.youtube.com/watch.